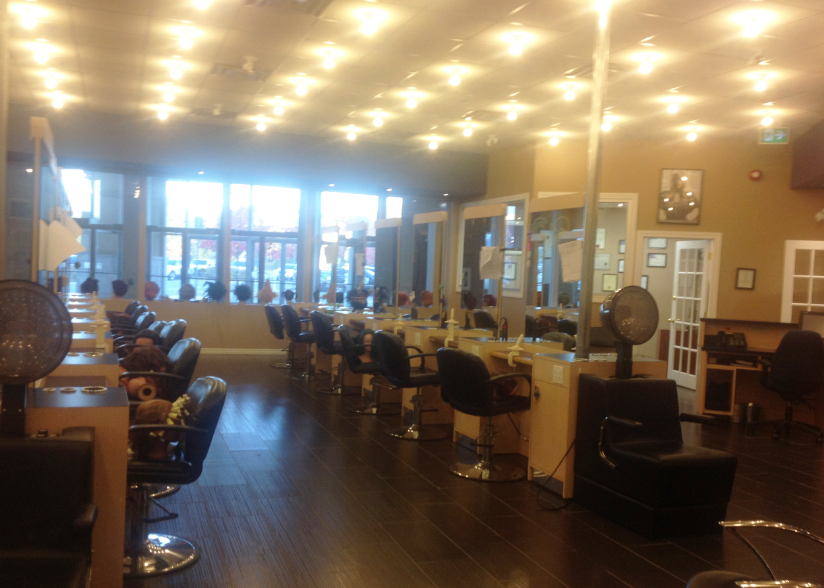 "I'm so happy that I took the hairstyling course at London Beauty Academy. It has always been my dream to become a hairstylist and I have finally done it. I was blessed to have teachers who helped me build confidence and teach me many new skills to be able to succeed in this industry. I had an amazing 10 months at the Academy. I will never forget my time spent here. Thank you."
– Breigh Chickowski
"I was blessed to have teachers who helped me build confidence…"
"

I had a good experience at the school. My teacher Mrs.Samar was exceptional.

"
" I attended westend academy and graduated in September with a medical spa diploma. I had a good experience at the school. My teacher Mrs.Samar was exceptional. She is very knowledgeable and took the time to answer any questions I had. The information we learned was on point to what you use in the field. I am happy with the program and will go back to upgrade in other areas. "
– Ashley Lalonde
"It has been a pleasure studying at the Academy. The informative theory sessions and hands-on demos gave me the necessary tools to perform in the hairstyling industry. The Academy has a great way to adapt to new situations. They have proven it in many ways during the Covid pandemic. Thank you to all the staff at the Academy"
-Marie-Claire Dabrawski
"
The Academy has a great way to adapt to new situations. They have proven it in many ways during the Covid pandemic

"
"I loved the program. Linda is a great teacher and professional. Ottawa Academy is an amazing place…"
"I had a wonderful experience in the Medical Esthetician program 2018 to 2019 with Mrs. Linda Chenier. I can't get over how wonderful my teacher was. She explained everything really well and helped everything more to understand. Working on real clients was really good to have in the practicums! It showed how our teachers and other students dealt with clients and that was awesome! I loved the program. Linda is a great teacher and professional. Ottawa Academy is an amazing place, and people are wonderful, flexible, respectful and loyal."
– Dorotea Medja
"Ottawa Academy was a great school to attend. The teachers Ms. Linda and Ms. Louise were very helpful and made class fun as well as interesting. It's been a little over a year since I graduated, and I have had the same job since before a month of graduating. The school helped me find a job that lasted, and I am ever so grateful. Tony wasn't a teacher in my class, but he is so full of life and such a fun person to be around. He works very hard and makes sure the school runs smoothly. My overall experience was amazing."
"It's a dream being here and just a bonus to have such amazing teachers who are hands-on. They want you to succeed and have been very understanding when I was dealing with personal issues with my family. We all need a little more love in the world to make it a better place."
"I find the academy was the best choice to go to College. The staff are understanding, very convenient and very outgoing. I would recommend the Academy because it's a 1-year program and very affordable. It also has private courses. 10/10 would recommend if you are looking to get your hair/nails/facials etc. done"
"Everything I hoped for and more! Never thought I would wake up everyday wanting to go to school. Ms. Linda is an absolute angel. I'm excited for what the future holds. This course is just the right amount of work loads and everyone here wants you to succeed."
-Erika Bentley
"I recommend this place because the aesthetics class is very small, very cheap and affordable. The teacher is very outgoing, willing to teach and the class is all mostly females, so everyone is understandable. I would also recommend it because it's a fun course and you can learn medical or SPA. 10/10 would recommend the course."
-Unnamed testimonial
"I love that we do more hands-on teaching then theory. Ms. MC has helped a lot and teaching me important hands-on techniques. Taking clients really helps as well! The teachers are great!"
Linda Keldani
"I'm having a blast here, great people. I'm glad to have Terry as a Barber Teacher, taking time to teach with extra care. Very happy to be a part of the Academy here in Ottawa"
-Jonathon Purdy
Ready to start your dream career?
"It's important to be focused and motivated when you make the decision of going back to school, especially as an adult. My stay at the Beauty Academy was one of the best decisions I made toward my future. I am very thankful to the staff and the wonderful teachers who were there for me, especially in the unexpected time off with the pandemic. As a former student and still currently is continuing my learning from hairstyling to Medical Esthetician, I will refer anyone who's thinking of a good school to educate themselves toward a career. I would like to say thank you to the now current owner, Phil, for having the students back so we can continue the program on-line. To Tony, Mr. Terry, Ms. Gino, Ms. MC, you are my model. I want to be just like you. "
– Miguelina Jean
"I am very thankful to the staff and the wonderful teachers who were there for me…"
"…now that I am employed, I am able to take my favorite parts of everybody's teaching and make things my own."
"I went to West End Beauty Acadamy starting in September of 2019 and was supposed to finish April 2020. I took the Medical Esthetics program with Miss Samar. I truly feel that I learned a lot in the course and was confident when I graduated to succeed in a new career. Miss Samar was always focusing on making sure we got the most out of the course and was available for extra help if we didn't understand or needed to be shown something again. I made many friends by taking this course including one very special person who had taken Esthetics elsewhere but joined us to get the medical side in which, I had the opportunity to learn in a different direction at times. We also had some stand in teachers at times where again, we learned things in a different direction and now that I am employed, I am able to take my favorite parts of everybody's teaching and make things my own. Roughly about half-way through my course, the school was sold to Phil and his wife and it was noticeably different! They had zero issues with reforming our spa areas to make sure we had everything we needed to learn and practice properly. I enjoyed the fact that we took clients at the school where our instructor was in-case we had questions or concerns and it gave us the opportunity to see what it would be like before graduation. Now through our time at school, the dreaded Covid 19 started and we had to leave school, but we still needed hours in order to graduate. In a timely manner, the staff and Phil were able to create an online class for us using zoom and sending email homework so that we could still finish our course. The very first place I applied to, I was hired. One of my very first clients at the spa I work at use to work at Mahogony spa in Stitsville and use to come to the schools to talk about her spa and she was so delighted to hear that I graduated from one of our academy's. Her exact words were if they had that as an education on their resume, they were hired! I keep in touch with many of my classmates and we have a high hire percentage so if you are thinking of taking Medical Esthetics, I totally believe you will succeed through one of the academy's. "
– Tresea Cerqueira
Ready to start your dream career?